Skyline Moorage: The boat moorage specialists for Skyline Marina and Anacortes.
Skyline Marina at Flounder Bay
Located on the west end of Anacortes, WA, on Fidalgo Island, Skyline Marina is the gateway to the San Juan Islands, with the shortest run into the islands of any marina. It is typically less than a two-hour drive from either Seattle, Bellevue, Kirkland, or Redmond, as well as Vancouver BC.
Here are some approximate distances (in nautical miles):
Thatcher Pass - 4.5 miles
Center Island - 5 miles
Deception Pass - 5.5 miles
Blakely Island Marina - 7 miles
Rosario Resort - 13 miles
Deer Harbor - 14 miles
Fisherman's Bay (Lopez) - 14 miles
Friday Harbor - 15 miles
Bellingham - 18 miles
Sucia Island - 20 miles
Port Townsend - 22 miles
Roche Harbor - 25 miles
Sidney, B.C. - 28 miles
Victoria, B.C. - 33 miles

The marina, which is within Flounder Bay and protected by a natural spit, has 710 slips, a combination of private docks and 465 condominium moorages.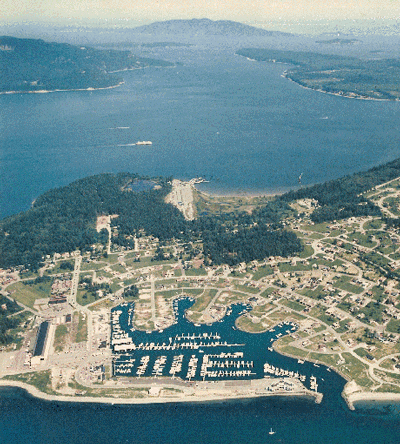 View a closeup of the condominium docks, or the slip maps for Division 17 (A, B, C, D docks), Division 18 (E, F, G, H docks), Division 22 (TDN & TDO docks), and Division 23 (TD, TE, TF, & TG docks).
Skyline marina is a full service marina. In addition to fuel, chandlery, repair, dry storage, and hoist/lauch facilities, you will find:

- restrooms, showers, and laundry facilites
- garbage receptacles and sani-stations
- groceries and ice
- electricity and water to each slip
- ample parking
Skyline is located on the edge of the rain-shadow of the Olympic mountains and has less rainfall than the Seattle area. In summer, afternoon winds prevail from the southeast. In winter, expect north and north-easterlies.
Skyline Moorage, real estate brokers at the Skyline community in Anacortes, WA since 1967, specializing in sales and leasing of condominiumized boat moorings at Skyline Marina in Flounder Bay, as well Anacortes Marina, Anchor Cove Marina, and Fidalgo Marina in Anacortes, WA.
Steven J. McDermott, Managing Broker
Our office is located at Skyline Marina near the self-launch hoists.
Copyright ©2011 by Buoy Cloud LLC. All rights reserved.